Red Lighting Bolt Symbol On My Jeep Dashboard – (Electronic throttle Control Warning Sign) What Does This Mean?
The warning signs on the dashboard can be quite daunting and scary for most drivers. The purpose of warning signs on the dashboard, is to alert you of any issues that your car might have with any of the electronic systems.
Todays' cars are filled with sensors and control modules to ensure that your car is always safe and runs optimally.
At Michanic, using our AI trend analysis we have noticed that most Jeeps after reaching between 130 000KM and 200 000 KM start to experiences Electronic Throttle Control issues. This red lightning bolt symbol on the dashboard, indicates that there is a problem with Jeeps' throttle which may be caused by the following:
Faulty Throttle Control Sensor (Most Common According To Michanic AI)
Modern cars have a lot of sensors at everywhere. While this enables all kinds of cool and safety features, the downside of it all is that as soon as one sensor goes wrong, the entire systems can go down. That's the case with the throttle control sensor, also known as the throttle body position sensor.
This sensor tells the cars' computer what the throttle body's current position, so the computer box knows the ideal fuel and timing ratios to adjust everything else too. With a faulty throttle position sensor, the ECU doesn't know how to time everything, and the red lightning bolt symbol or ETC warning sign will illuminate.
Stuck Throttle Body 
A dirty throttle body can sometimes get stuck or damaged and when that is the case, the system might report a ETC fault by illuminating the red lightning bolt symbol on your Jeep dashboard.
A visual and mechanical inspection will help you determine if the throttle body is working the way it should. Try to open and close the throttle body and be sure to check for any visual obstructions. The throttle body should open with minimum effort and should close automatically as soon as you release it.
Faulty Accelerator Pedal Position Sensor or Module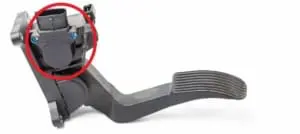 In addition to the throttle position sensor, the electronic throttle control consists of an accelerator pedal position sensor and an accelerator pedal module. The acceleration pedal position sensor sends the current position of the accelerator pedal to the control module.
The module uses this information to communicate with the throttle position sensor to establish the correct throttle position. If any of these components wear out and break, you'll end up with a trouble code, and the system won't work the way it should.
Symptoms Of A Faulty Electronic Throttle Control
While the most obvious sign of a faulty Electronic Throttle Control is a lightning bolt symbol on your Jeep dashboard, sometimes, this may not be the case however you would experience some performance issues such as car losing power or not accelerating at all.
The electronic throttle control tells the throttle body how much to open when you press the accelerator pedal down. But if the controls aren't working, then you'll be unable to accelerate the way you should when you press the pedal. The system will rarely fail entirely right away, so you'll still be able to drive some, but the longer you wait, the worse the problems will get. A slightly reduced acceleration today might turn into a full-blown failure to accelerate when you need to tomorrow.
High Idle or Stalling Engine
Sometimes faulty electronic throttle controls will lead to a throttle body that never closes to a regular idle. Instead, it might only close partially, leading to an excessively high idle. Conversely, the throttle might close too much, either while idling or while driving. If this happens, your engine might stall out since it's not getting the necessary air to run correctly. If it's not dying completely, it might sputter as it struggles to stay running. Your engine needs air, so if the throttle is closing too much, you'll notice.
Can I Drive With the Red Lightning Symbol Or Faulty Electronic Throttle Control?
The short answer is that YES you can drive with a faulty ETC however you shouldn't. While you can get away with driving with a faulty ETC, for little while, doing this over an extended period, it may end up causing issues and damaging your engine. Driving with this issues can also be of safety concern. Inconsistent acceleration can turn deadly very fast and that is why you should avoid driving while the car display the red lightning bolt symbol on your Jeep.
Finally, electronic throttle controls rarely fail all at once. When you first notice the light, it will likely still work to some degree. But the longer you put off repairs, the more severe the symptoms will become, and the more dangerous it will become to drive your vehicle.
Summary
While you might feel that everything is getting more complicated in modern vehicles, these complicated features have huge benefits. Not only do you get better fuel economy, but you get a more powerful and a more responsive engine.
We at Michanic we have experienced Jeep mechanics who can identify the problem and solve it for you at the comfort of your home and reasonable prices. Our Jeep specialist are available in Gauteng, Cape Town, KZN and Emalahleni for your convenience
Click here to get an instant online quote for a car service and repairs for your car!